Kaytee Exact was established in America in 1989. Vets, breeders and other experts regard it as one of the best Parrot foods.

All the food is complete and leaves little or no waste and mess.

The Kaytee Avian Research Centre developed the food.

Northern Pet Trade are the only company that import Kaytee into the UK. In the factory in the USA, it is made to our requirements, giving you a fresh product that's always available.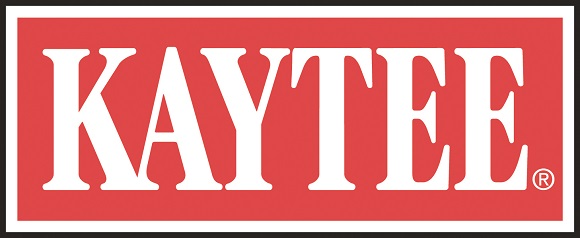 Kaytee Complete Food

Kaytee Exact's Rainbow range is a nutritious that provides all the nutrients that are necessary for Parrots. It combines the highest quality ingredients with added nutrients in a special pasteurizing process, to produce an enticing rainbow of life like colours, shapes and sizes, whilst still fulfilling dietary needs.

There are pellet sizes or all birds from Cockatiels through to African Greys and Large Macaws.

Kaytee Exact Rainbow Cockatiel is also suitable for other similar sized Parrots like Small Conures and Lovebirds and is available in a 397g (14oz) resealable packet. It gives the bird all the nutrients they require for optimum health.

Kaytee Exact Rainbow Parrot is suitable for most medium sized Parrots and is available in a 1.13kg (2.5lb) bag and a 9.07kg (20lb) bag. With high quality delicious ingredients and exact nutrition in every pellet, it helps a Parrot maintain fantastic overall health, a bright plumage and good feathering. This 100% consumable food has Omega-3 fatty acids too, which support a bird's heart, brain and eyes.

The other advantage of it being 100% edible is it cuts down on mess, leaving less for your customer to clean up afterwards.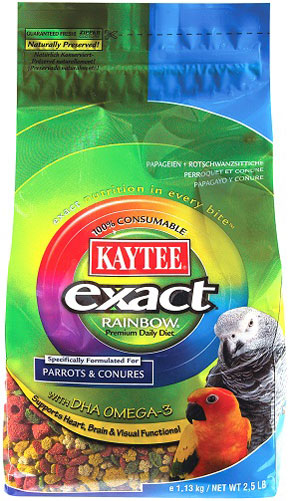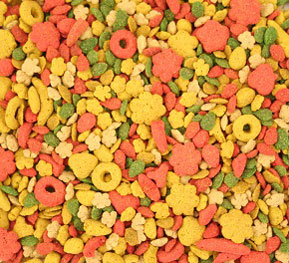 Kaytee Exact Rainbow Chunky is suitable for Large Macaws and Cockatoos and is also available in a 1.13kg (2.5lb) bag and a 9.07kg (20lb) sack. The handy sized bags are resealable.

It contains the important Omega 3 that keep a bird's heart brain and eyes in good condition. It doesn't have any shells or husks so every last crumb can be enjoyed. And of course every pellet has complete nutrition so birds can enjoy a balanced diet.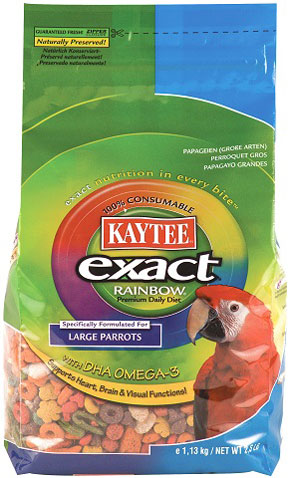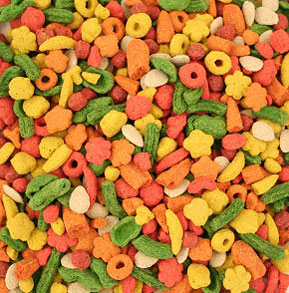 Kaytee Hand Feeding Formulas

The Exact Hand Feeding Formula is also suitable for Eclectus Parrots. The special process used to produce it creates an instant formula that has low bacteria levels. As it's rich in nutrition baby birds grow faster, wean at a younger age and grow a brighter plumage than birds with other homemade formulas.

It's available in a resealable 5lb bag for Macaws and an 18oz tub, 5lb bag or 22lb tub for all other Parrots.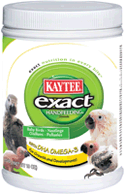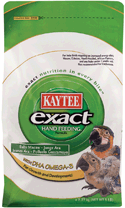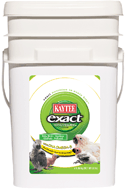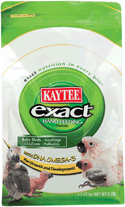 Kaytee Treats

The Fiesta Krunch-A-Rounds are peanuts wrapped inside a crispy rice coating. The coating is also covered in sesame seeds. Parrots love peanuts and sesame seeds and as both are relatively small, the whole treat can easily be placed inside foraging toys. It is an 85g packet.

Kaytee Bird Greens Foraging Treat are natural vegetation which give some variety to a bird's diet. All the ingredients are chopped into fine pieces to make a bird work for their treats and use their natural foraging instincts. Customers need to simply sprinkle the treats over their bird's food or place them in a separate bowl.

Kaytee uses some of the profits from the sale of these Bird Greens Foraging Treats to raise funds for education, research and conservation projects that rehabilitate Parrots, rehome Parrots and preserve natural habitats for threatened and endangered Parrots.
Kaytee Exact: To make your customer's Parrot even healthier.