King's Cages are one of the most highly demanded cage brands the world over.

Richard King founded King's Cages in 1975 and as of 2015 is the managing director of the business together with his son Andrew.





Richard began the business whilst working at a cattle station and noticed there weren't any safe bird cages for bigger Parrots. Realising there was a gap in the market he launched his own company and sourced the best wood, food, cages and toy factories for the Parrots.
King's Cages Specifications

King's continue to design and manufacture all of their cages. King's are known worldwide for the quality of their durable, non-toxic powder coated finish and you can expect this with every single cage. Excellence as standard is one of King's mottos and that's certainly true.

King's Cages come with their patented bird-proof lock, large cage doors for easy access, long lasting ball bearing castors and a combination of horizontal and vertical bars. They are guaranteed zinc and lead free and have no sharp edges, weal welds or converging bars.

Most of the main cage frames have a unique and extremely secure clip together system that eliminates the use of nuts and bolts that many Parrots figure out.

King's Cages are tested frequently to make sure standards are kept high.


King's Travel Cages
If you're looking for a travel cage for Parrots, what could be better than travelling in style with a safe, lightweight and strong King's Aluminium Travel Cage? These carriers are ideal for vet visits, outings or any time your customer wants to travel with their bird.

Again these cages have been anodised, which means the surface structure of the aluminium has been changed, so it becomes harder wearing and can absorb a dye into the metal. There are four colours of frame for customers to choose from and the carry cage bars are satin silver. The bars are horizontal on the side and vertical on the front and back. Each of the sections is easily assembled without nuts and bolts.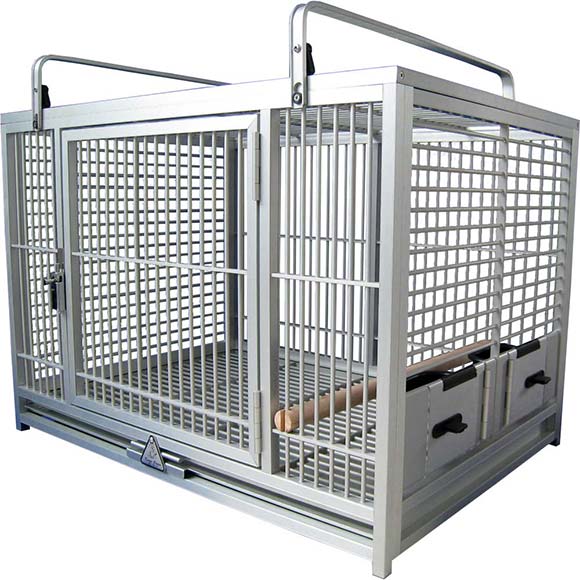 So a Parrot can travel safely, the cage has two swing out feeders with locking cups, slide out grille and tray, one perch and large cage doors for easy access.

King's also supply a selection of toys and supplements.

King's Supplements
One of King's more revolutionary products is Pluck No More. It's a homeopathic remedy that's been designed to reduce and even stop feather plucking in birds. Birds that have used this product have grown new feathers within five weeks and Parrots have stopped feather plucking, biting or screaming.

It's entirely water based and has no alcohol or taste. All customers need to do is dilute the solution, add it to their Parrot's drinking water and mist the affected areas multiple times throughout the day. The advice of an avian vet should also be sought.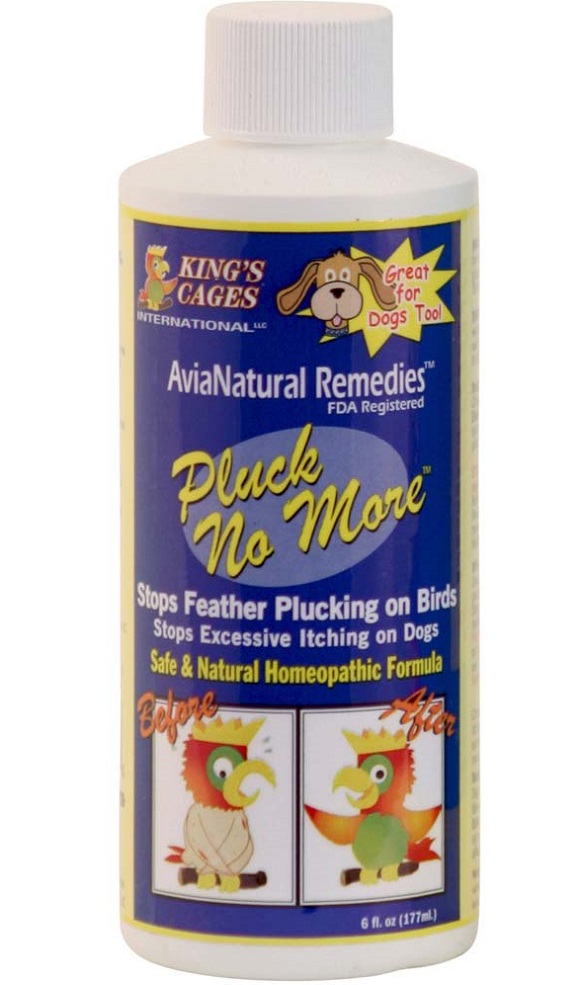 The Feather Shine Shampoo can be used on birds of all ages. The formula makes feathers that are dull or dirty shine again, as well as preventing feather plucking, preventing dry and itchy skin and controlling mites. It removes baby formula from around the bikes of dried birds too.

The Rainforest Mist for Small Birds brings relief to a bird's dry itchy skin and cleans it, eliminates lice and mites, deters feather plucking and reduces moulting. It has a delightful Hawaiian Hibiscus scent birds and owners appreciate.

Rainforest Mist Bath Sprays for African Greys and Amazons is a daily formula that soothes skin and cleans dry and itchy skin. It also conditions feathers, encourages a brighter plumage to grow and reduces feather plucking and unnecessary moulting. Comes in a 8oz or 17oz bottle.

Rainforest Mist for Cockatoos and Macaws gets rid of lice and mites, stops feather plucking, decreases unnecessary moulting and soothes and relieves dry itchy skin. The spray has a fragrant vanilla odour so is pleasant to be around when in use.

King's Cages: Built on quality.