Lafeber NutriBerries, suitable for all but the smallest Parrot species like Canaries, were created by the American Dr TJ Lafeber.

Dr Lafeber has recommended 40 nutrients that all birds need, and included them in the berries. The nutrients are combined with vitamins, minerals and Omega 3 to support a Parrot's good health.

This is supported by vets and animal nutrition and behaviour experts.

As well as being a complete food or treat, they are good as a training reward or to hide in foraging toys, a useful upselling opportunity.

We are the only company that import Lafeber products into the UK, to ensure there is always a good supply.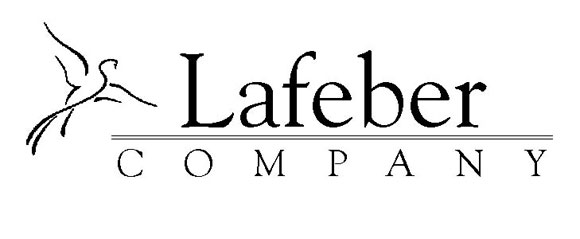 NutriBerries
There are five tasty flavours of Lafeber NutriBerries available, Original, Sunny Orchard, Tropical Fruit, Garden Veggie and El Paso. All have the 40 essential ingredients birds need and all are resealable too.

The Original flavour of NutriBerries are in one of three sizes, 340g, 1.47kg or 9.07kg. These have natural ingredients like peanuts, safflower and cracked corn.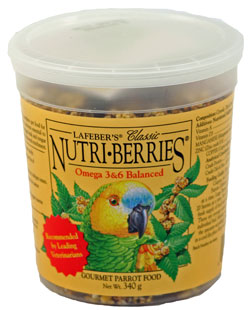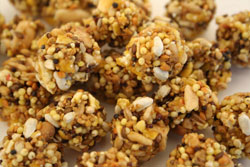 Sunny Orchard, available in a 284g or 1.36kg bag, has bright fruity flavours such as cranberries, raisins and apricots.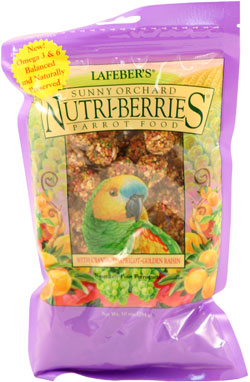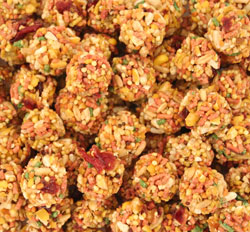 The El Paso flavour is available in a 284g or 1.36kg bag. The spicy ingredients that give this flavour its zing are red and green peppers.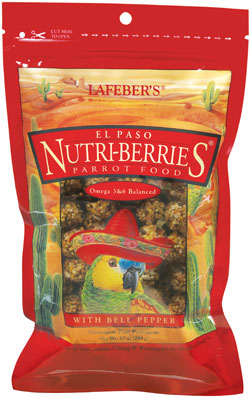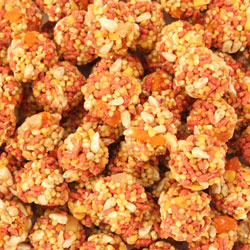 The Tropical Fruit flavour gives a bird a taste of the tropics, with its papaya, pineapple and mango. Packet sizes of this start at 300g and go up to 1.36kg.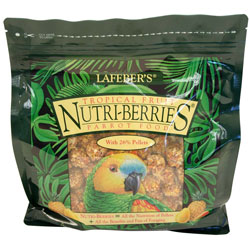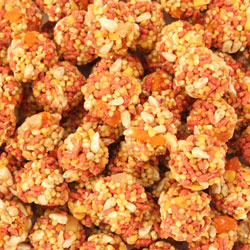 The Garden Veggie flavour has ingredients your customer might grow in their garden, like carrots, peas and broccoli. These are a 284g or 1.36kg bag.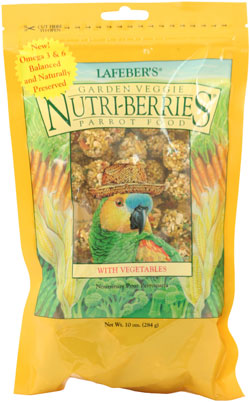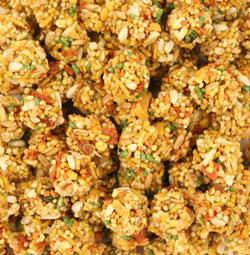 PelletBerries
PelletBerries are a fun alternative to NutrIBerries. They combine the science of pellets with natural ingredients like grains and dates with natural enrichment. These are a 354g or 1.5kg container and all are tasty and wholesome. These are a Sunny Orchard flavour.
Treats
Lafeber have a tasty amount of treats that customers can use between meals as well.

The Original Lafeber AviCakes have equal amounts of Omega 3 and 6 and are naturally preserved. The interesting snack is particularly useful as a foraging food. This is a 230g bag.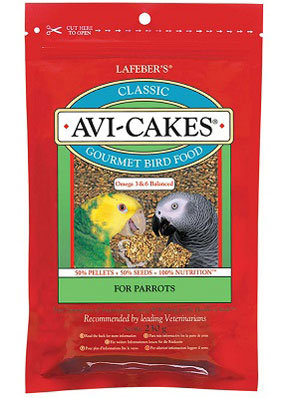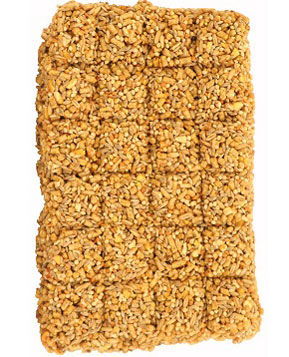 Lafeber Fruit Delight AviCakes are an explosion of fruity flavours for the bird to adore eating, including mango, papaya and pineapple. The wholesome fruits and grains, bursting with healthy nutrients, have been mixed 50:50 with pellets and are all held together with an amazing tasting natural binder.

These fruit flavoured AviCakes are specially designed to meet the nutritional demands of birds to encourage the growth of shiny feathers, bright eyes and strong beak and bones. They have a balance of important proteins, vitamins and minerals to help a Parrot maintain good health and have a long and happy life. These have a weight of 227g.

There are also AviCakes for Cockatiels.

Lafeber Food for Cockatiels

There is a NutriBerries Tropical Fruit for Cockatiels and other similar sized small birds This is available in a 284g packet.

Every berry shaped piece has the four crucial ingredients a Parrot needs, but as each berry is relatively small they could easily be hidden in foraging toys. Their handy size makes them easy to hold too.

Lafeber NutriBerries Original Complete Cockatiel Food could be perfect as a foraging treat too, because of their small size and stimulating berry shape that keeps birds active as they go searching for their food.

They're made with peanuts, cracked corn, seeds and more, and every berry has the 40 nutrients so vital to a bird's health. These are available in a 350g or 1.8kg tub.

Lafeber NutriBerries Sunny Orchard for Cockatiels and other small Parrots has only natural, wholesome ingredients all rolled into fun berry shaped pieces so a bird's food is never dull. The small berry shape is the right size for the bird to hold as they eat or for wedging in foraging devices. Make sure you stock a range of foraging toys for this reason.

Sunny Orchard for Cockatiels have the 40 crucial ingredients all NutriBerries have, along with 70% whole seeds, grains and real fruits plus 30% highly beneficial pellets. These are a 284g bag.

Lafeber PelletBerries Sunny Orchard Complete Cockatiel Food also has a mix of scrumptious ingredients, like corn, red millet and natural grains which a bird can touch, see and bite. These are small enough to be placed in foraging devices as well. These come in a 354g tub.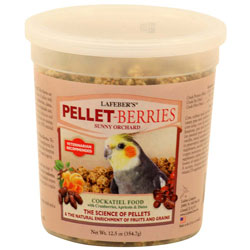 Lafeber Original AviCakes for Cockatiels and other small birds can be split into pieces customers can choose the right size for their bird to munch on or for hiding in different sized foraging toys.

Each healthy, nutritious and interesting snack has a fresh and appetising taste and has been naturally preserved every time. Ingredients include Omega 3 and 6, but there is certainly a real mix of ingredients in every piece. These are packaged as a 230g bag.
The Lafeber Emergency Nutrition helps herbivores to regain their appetite.
Lafeber NutriBerries: Caring and working for the health of birds.