About Poop-Off
Published on Thursday, 19th January 2017
Cleaning a Parrot's cage must have been really difficult until Poop-Off was invented in the 1980's.

The company who invented Poop-Off started off distributing pet products across California in America. They always went inside the shops they delivered to, to see which of their products were the most popular, and took particular interest in products that removed odours and stains.

The staff quickly realised that the stain and odour products didn't live up to their claims.
So they decided to put them all through 5 years of testing, to find out once and for all which products worked and which didn't. The results showed that most products were not effective against stains and odours.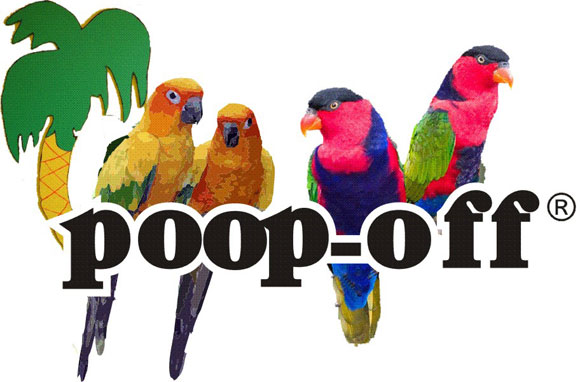 The Poop-Off founders decided to begin working on a stain and odour product that would work against marks and smells. This led to Poop-Off being invented.

Now, over three decades since Poop-Off was first produced, it is still one of the safest and efficient products of its kind and is still the only liquid bird poop remover that instantly dissolves bird droppings and can be used when a bird is nearby. Poop-Off is non-toxic, biodegradable and contains no alcohol, bleach, detergent, chemicals or
solvents.

It's not just retail customers that use Poop-Off, vets, zoos and breeders all use this product in their Parrot cages.
Poop-Off Products
A Mister allows your customer to bathe their Parrot in mist and cold water. It's in a 16oz bottle with an easy to use trigger spray handle.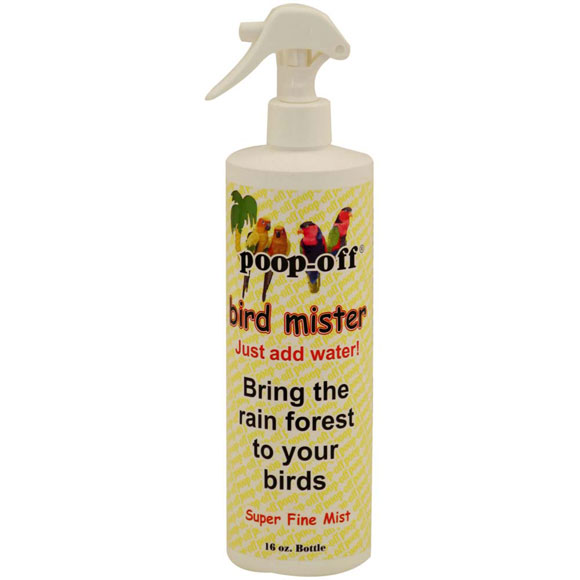 The Liquid Refills can be used practically anywhere in your customer's home or garden as it works on upholstery, blood, decking, car seats, walls, carpets, clothing, bird toys, nest boxes, splattered and regurgitated food, ornaments, bird feeders, pottery, perches, bug residue and hand feeding formula, practically anywhere the bird goes. Plus, it removes droppings from every type of avian diet (seed, nut, fruit, vegetable, formulated, greens, grains, meat, nectar and bugs.)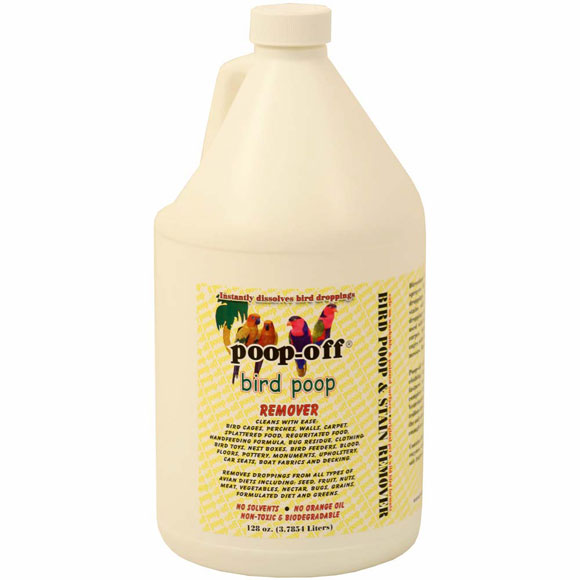 Ideally your customer should use the Liquid Refills and this Clean-Up Liquid with brush to apply Poop-Off. The brush is best used on and in carpets, walls, clothes, furniture, cages and perches and acts quickly to remove bird droppings, stains and dissolve bird poop. The liquid is suitable for use without the brush on painted service. It's smells pleasant too.

The Poop-Off Spray dissolves droppings, stains and mess in an instant. Spray it onto the affected area and wipe until the mark vanishes. It works best with a brush on dried droppings and carpets, but of course can be used on most floors, walls, hard surfaces, carpets and cages with liquid.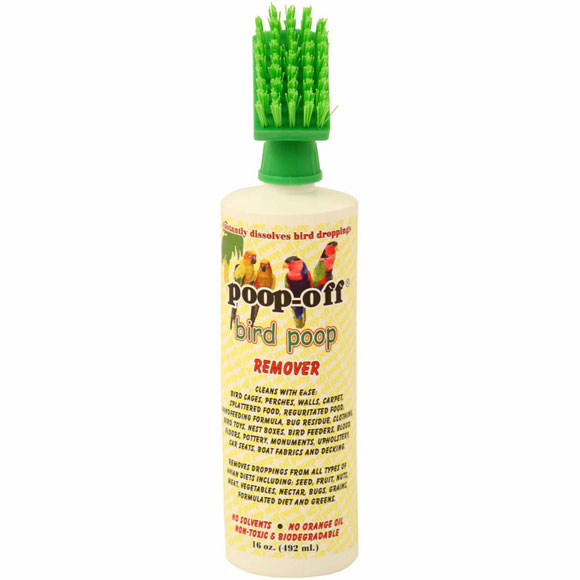 Poop-Off Outdoor is the easy way to dissolve bird droppings on outdoor areas. It can be used almost anywhere outside, like aviaries, patios, turf and grass. A refill bottle is available as an upsell.

Use Poop-Off to keep your shop clean and improve its presentation, which all helps you to attract customers, old and new.

Poop-Off: The simple and effective way to clean a Parrot's cage.