Based in America, Super Bird Creations have become one of the best bird toy manufacturers in the world. There is a toy for all a Parrot's favourite habits, like chewing, foraging and shredding, with lots of different textures, to keep Parrots physically and mentally stimulated.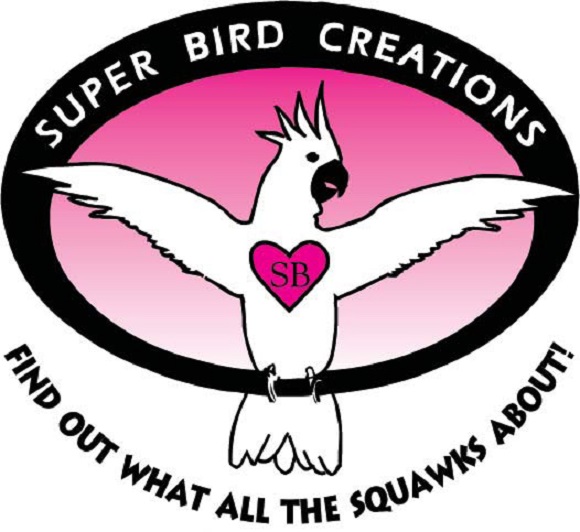 Chewable Foraging Toys
In chewable foraging toys, a Parrot must chew their way through the toy to get to the goodies inside.

Beaker Sneakers are versatile, they can be filled with goodie or a Parrot can just enjoy unfastening the laces on it.

There are two sizes of Activity Wall, Mini and Original. Both have added materials like straw and cotton attached, to entertain a bird as they climb up it.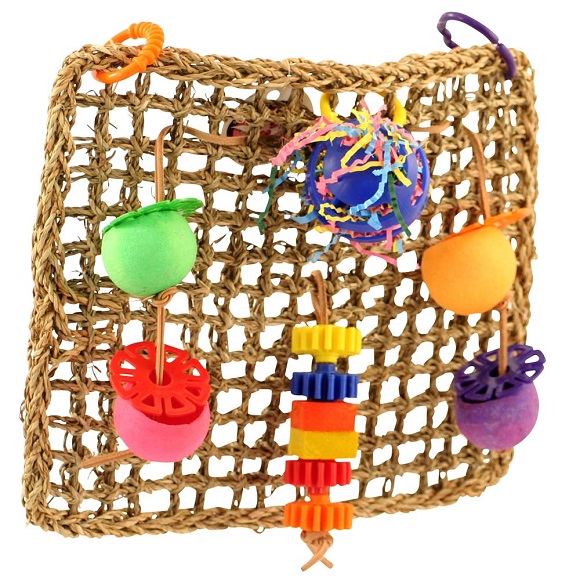 The Foraging Wall is similar but made of seagrass instead.

Encourage your customer to stuff the Foraging Pouch with all their bird's favourite things.

The bigger Foraging Basket has more room for all a bird's favourite things too.

The Mini Flower Basket has a woven flower on the side, that's fun to unravel, and it packed full of other goodies too.

The Jellyfish is a special shape and has vine balls, crinkle paper, wood and more for a Parrot to explore.
Reusable Foraging Toys
Parrots have to solve the puzzle to reach their prize inside reusable foraging toys, they can't chew them.

The Busy Birdie Play Perch has a wood perch and lots of other woven goodies attached, like palm leaf and paper.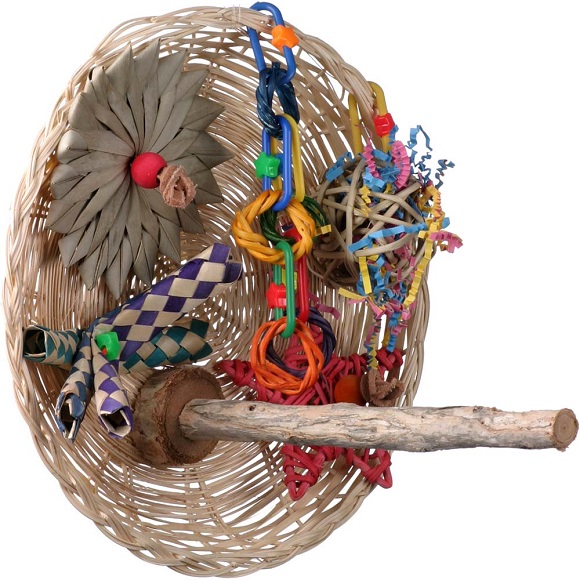 Swing and Climbing Toys

Encourage a Parrot to get lots of exercise through play with swing and climbing toys.

Flying Trapeze Toys allow a bird to indulge in this fun behaviour. Available in a large or mini size.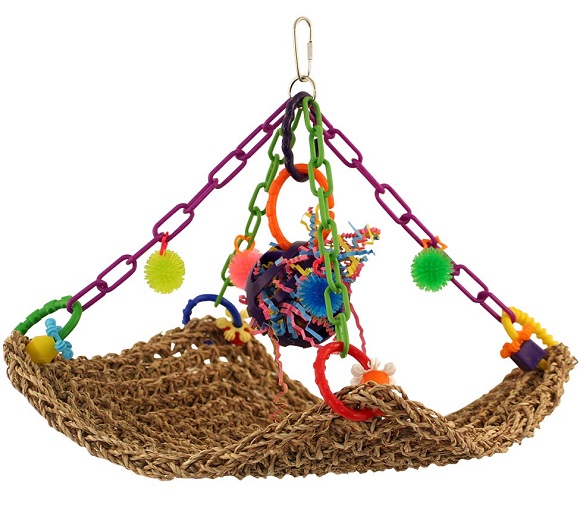 Willow and Palm Toys
Willow and palm toys have many fun textures for Parrots.

Smaller Parrots like chewing and shredding through the crinkle paper and willow of the Crinkle Crinkle Little Star.

The Beakwich has crinkle paper and maize that birds can pick through looking for goodies.

Parrots love getting their beak into the palm leaf and munch balls of the Crunch and Munch.

And holy moly, there is so many textures for a Parrot to enjoy on the Holy Squawkamole, including palm leaf, vine and wood.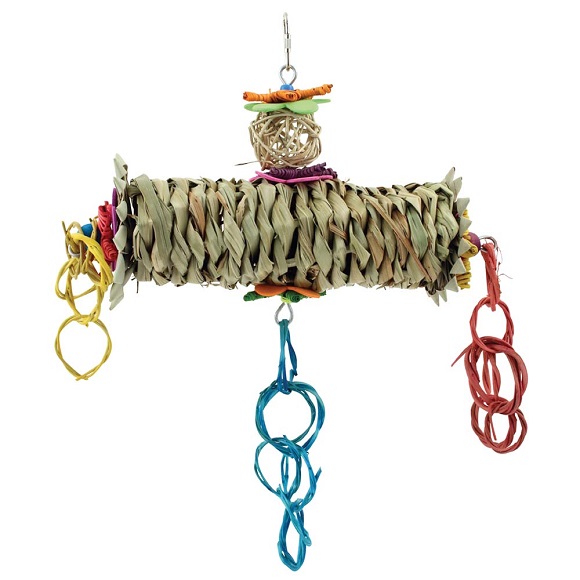 Acrylic and Metal Toys

The Doohickey has tough balsa wood and plastic beads to have fun removing.

The Sputnik Junior is a hollow ball made from plastic, with leather rope attached.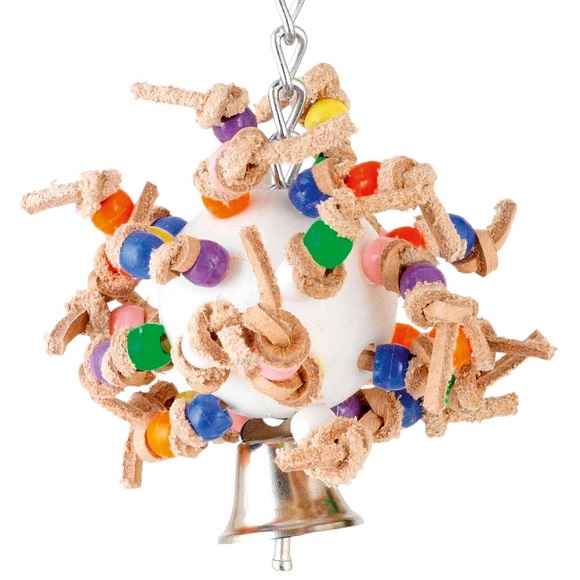 Toy Making Parts

Encourage your customer to add wooden Ice Cream Sticks to any toy, to revamp them.

You can improve a bird's current toys by filling or hiding shreddable Crinkle Paper inside it.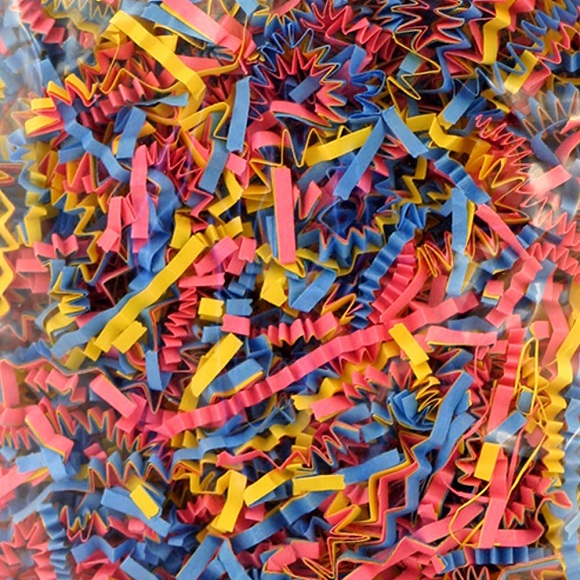 Foot Toys

Foot toys are fun to hold in beak and feet.

The Wing Nut Puzzle has a myriad of colourful bolts a Parrot can attempt to undo, keeping their clever mind working.

Woven Paper Sticks can be attached to toys so a bird can start unravelling, picking and chewing them.

Paper Party Sticks have the same functionality.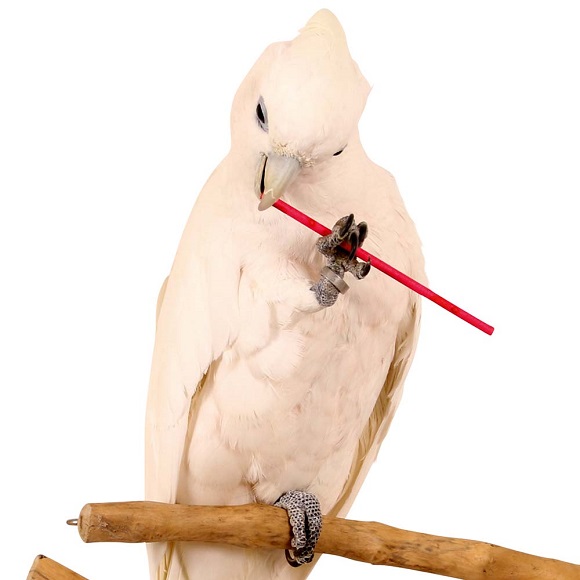 The Vine Ring Rattle gets its name because of the vine rings wrapped around it.

Encourage customers to use the Fiesta Ball Stuffers as a foraging toy, as it can be filled with many things.

The UFO Foot Toy has many fun to play with parts secured onto it, like dummies and beads, fun to try and remove.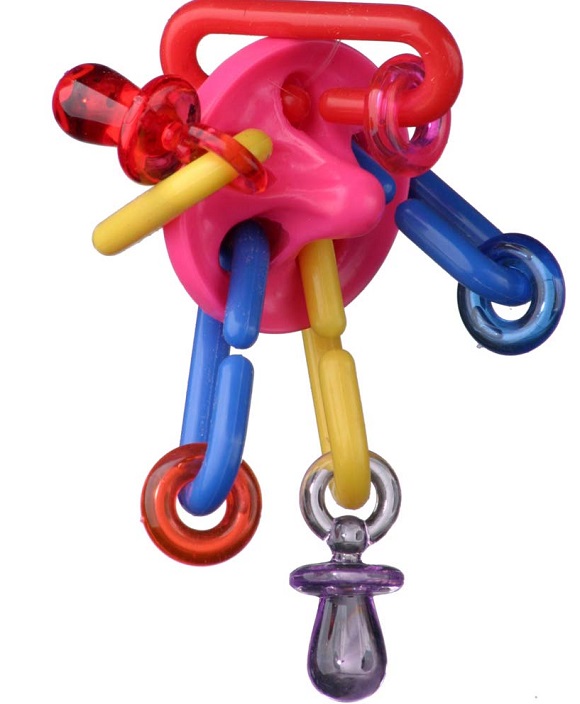 Natural Chews have six sticks, with different styles of different natural material.
Wood and Rope Toys
Wood and rope toys give a Parrot hours of chewing pleasure.

The Buzbee has layers of wooden slats combined with poly rope that are both fun to chew on.
Sitting pretty on the Sitting Pretty Toy is a Parrot's new rubber duck friend. He's waiting to share lots of woven materials with the bird.
The ABC Spoon Stack can be twisted into different shapes for a Parrot's amusement, as well as having two bells that jingle along.
2016 Toys
In the summer of 2016 Super Bird brought in new toys.

For smaller beaks, there is the Baby Steps Toy. It has small shows to place goodies in and plastic beads to remove.

Parrots love toys that are as noisy as they are, so they'll love to shake and rattle the Rattler Ring Toy.

There are three bright loofah sections on the Polly Parfait Toy that are great things to crunch up or hide goodies in.

There are many loofah sections on the Clowin' Around Parrot Toy as well.

There are two new toys in the shape of peacock's tails, but made from different materials. The Balsa Peacock is made from wood and the Peacock Tail Toy nuts and bolts. Both are fun to play with.

The Spin Cycle Toy has masses of nuts and bolts too, that a bird can work out how to remove.

Not only does the Topsy Turvy have nuts and bolts, it has a birdie bangle and bell too.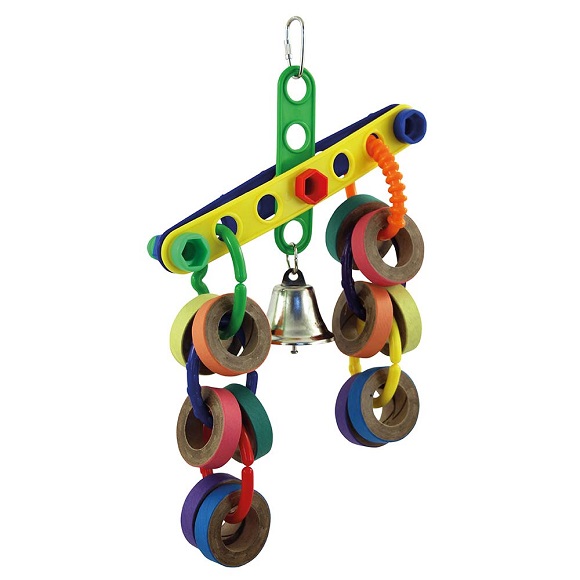 If a Parrot wants to hideaway from the world for a while, then the Seagrass Tent, Sleigh Ride or Wagon Ho! are made for them. These are made from natural materials with a perch to rest on.

The exciting Rolie Polie Toy has masses of natural fibres to pick at, forage in and tear into smaller chunks.

2017 Toys
In the summer of 2017 Super Bird released more exciting products for your store and for your customer's Parrot.

If a Parrot loves chewing on wood, then introduce them to the Turnstile Toy, which has lots of coloured wood to chew on.

To get to their treats on the Twirl n Whirl, a Parrot must spin and turn the toy around.

Foot toys are fun for Parrots of all sizes to enjoy lots of exercise through play. The Corkscrew, Corn Husk Toss, Vine Star Chew, Mini Seagrass Tumbler and Moon Pie toys are perfect for this.

The Mini Foraging Wall is a smaller version of the Foraging Wall. Materials and other goodies can be woven into it.

The High Jump, Vine Ring Platform and Hot Rod toys are all made from woven seagrass, that Parrots love picking at and unravelling.
The
Double Pocket
and
Pickin` Pocket
are loads of fun for a bird to forage in. Encourage customers to hide treats amongst the woven materials.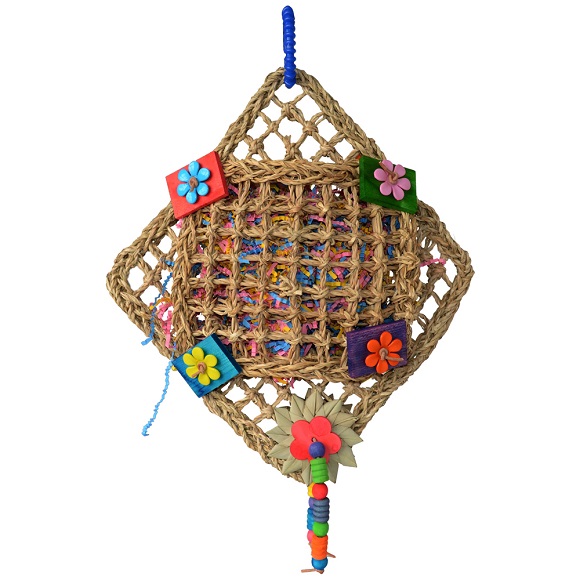 Finally, the Pinwheel, Woven Whimsy and Holy Gumballs Toy have a multitude of textures to entertain a Parrot with too.

The Christmas Crinkle Little Star is overflowing with crinkle paper a bird can shred over the festive season, along with two woven vine stars.

Christmas themed toys are always popular. The Christmas Garland, ready to order in a small or large size, has lots of wood and other textures stacked along a chain for a Parrot to enjoy.
Super Bird: Find out what the squawk's about with these exciting toys Parrots love playing with.