Not sure where to start? You've come to the right place. With hundreds of products available via our online wholesale service you may be wondering which foods to be stocking?

We want you to unlock the potential in your pet bird section, and make it even more successful, right from the off. That's why we've put together this handy guide, to help you choose the top selling food and treats we know pet bird and Parrot keeping customers are looking for.

Malnutrition is still the leading cause of illnesses seen in birds by vets. Seeds alone don't provide the nutrition Parrots need for a long and healthy life. It is widely recognised by leading avian vets and nutritionist that a varied diet built on a base of pellets or complete food, topped up with fruits, vegetables, seeds (ideally sprouted) nuts and treats (which includes sunflower seeds and peanuts) is the way to go.

We recommend you consider stocking food and treats from the following trusted brands…

Kaytee
Kaytee has been around since 1989. It has been developed by leading avian vets as one of the best complete Parrot foods.

Kaytee Rainbow Exact is a 100% consumable nutritionally complete food. Available in three nugget sizes –

Small Parrot – suitable for Cockatiels, Lovebirds, Quakers and similar sized birds.

Medium Parrot – suitable for African Greys, Amazons, Caiques and similar sized birds.

Large Parrot – suitable for Large Macaws and Cockatoos.

The colourful nuggets provide your customer's bird with brighter feathering, better colouring and help maintain their overall health.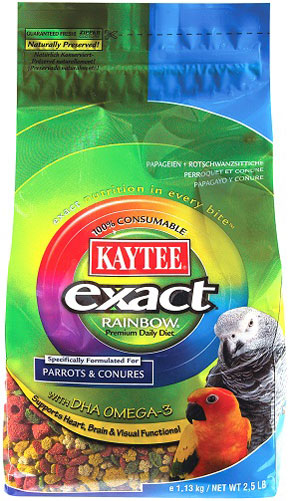 Available treats include…

Krunch-A-Rounds - a tasty peanut wrapped in a crispy rice and sesame seed coating. They are suitable for all size of Parrot and come in a handy re-sealable pack to keep them fresh.

Bird Greens - a tasty blend of alfalfa, parsley, kale, chia seed and sweet potato, all natural vegetation that Parrots love. Owners can sprinkle them over their bird's usual diet or place them in a separate bowl.

Pretty Bird
Pretty Bird offer a series of species specific complete diets, designed to give a particular species of Parrot all the nutrition they need. The African Special has been designed especially for African species, including the most popular kept pet Parrot – The African Grey.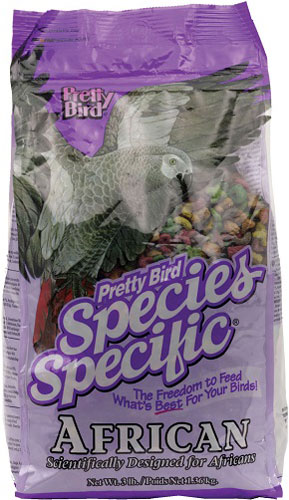 The Daily Select range is perfect for households with multiple bird species to feed. Available in three nugget sizes, Small, Medium and Large – each provides the same balanced nutrition.

There's also the Birdy Banquet – A quick to cook meal that's full of vegetables, pasta and beans. To prepare, just add water and heat. It's the perfect way to prepare a hot and nutritious meal for a Parrot.

Jungle Munchies are a high-quality seed mix mixed with added pellets. Available mixes include.

Conure / African – the most popular mix from the range.

Amazon / Cockatoo

Macaw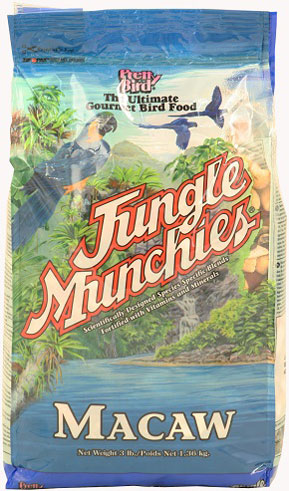 Lafeber
Lafeber has over 40 nutrients that a bird needs to maintain good overall wellbeing.

They're a versatile food and extremely popular, as they can be used as a treat as well as complete food. A choice of flavours is available.

Original (available in Parrot or Cockatiel size)
El Paso
Tropical Fruit (available in Small Parrot or Parrot size)
Sunny Orchard (available in Small Parrot or Parrot size)
Garden Veggie.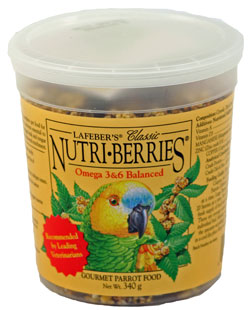 AviCakes are nutritionally complete snacks and contain Omega 3 and 6 to help a bird maintain a healthy immune system. Suitable for most Parrot species.

Original (available for small Parrots or medium to large Parrots)
Fruit Delight for Medium to large Parrots

ZuPreem
ZuPreem is available in three pellet sizes, Cockatiel (small Parrots), Large Parrot, but we recommend starting with the Med/Large in the FruitBlend option first, as this is the most popular amongst Parrot owners.

There's also a Natural vegetable option for any owners wanting to feed a more natural diet. Again, available in three pellet sizes, Cockatiel (small Parrot), Med/Large Parrot and Large Parrot.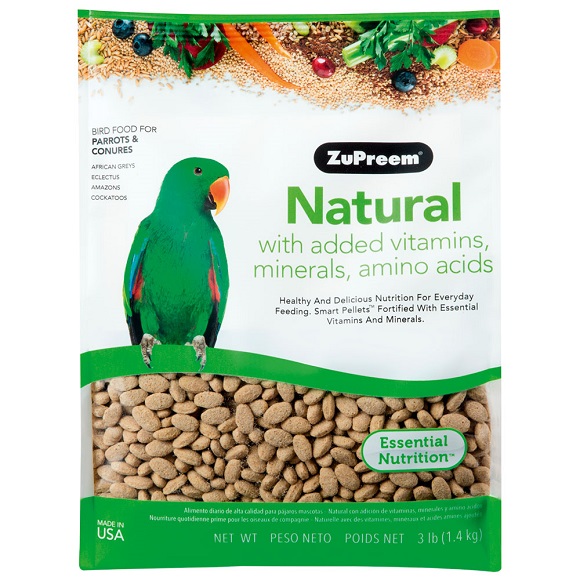 Seeds
Many customers will still be feeding their bird a basic seed based diet, usually high in sunflower seeds and peanuts. Changing a Parrot's diet can be a difficult task, but rarely impossible – not matter what age the Parrot is.

The first step in helping your customers to improve their bird's diet and health is to move them to a higher quality seed mix such as Parrot Premium Professional which is a great mix for all Parrot types.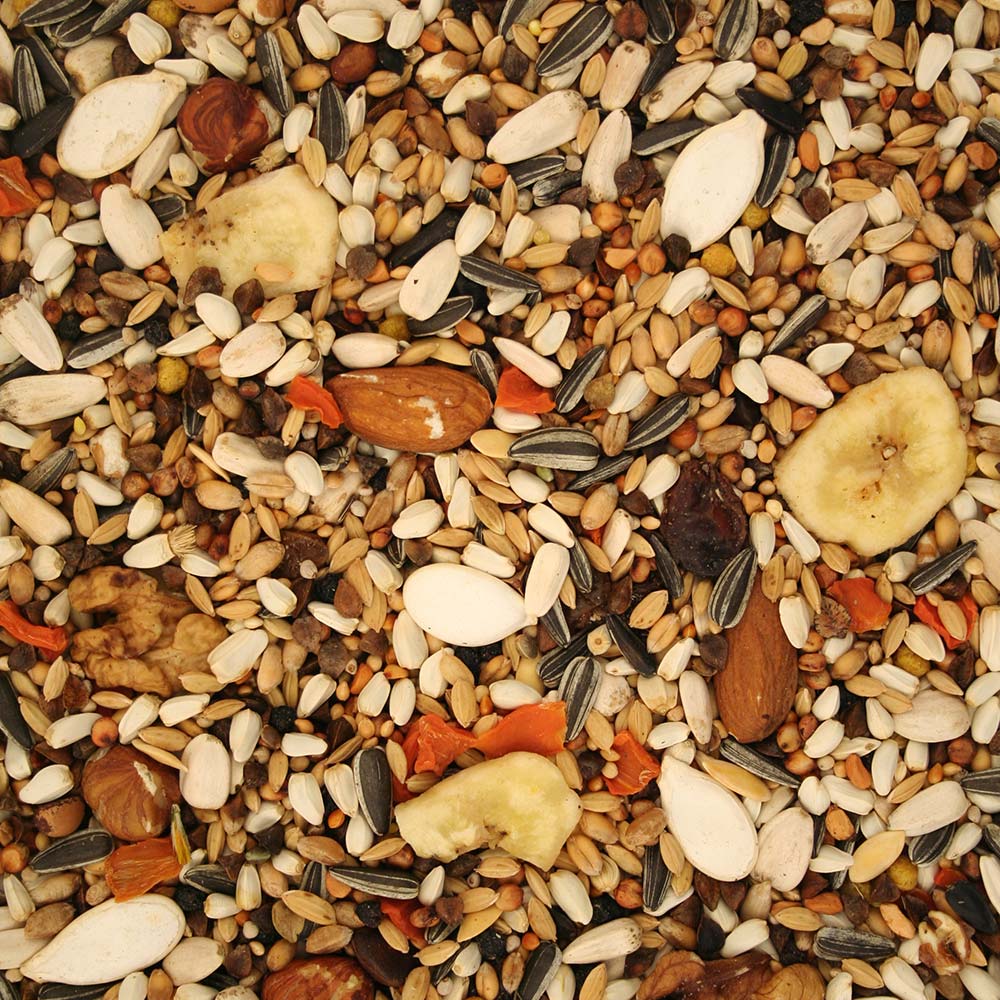 For advice on converting a Parrot's diet, read this article.
For more help on getting started take a look at these helpful articles on
Parrot
Accessories
Parrot Toys
If you have any questions or would like any more advice please contact our customer service team on 01706 507803 or email us at sales@northernpettrade.com