Which Parrot Products Should I Sell - Toys
Published on Friday, 30th June 2017
Not sure where to start? You've come to the right place. With hundreds of products available via our online wholesale service you may be wondering which toys to be stocking?

We want you to unlock the potential in your pet bird section, and make it even more successful, right from the off. That's why we've put together this handy guide, to help you choose the top selling toys we know pet bird and Parrot keeping customers are looking for.

As one of the most intelligent animal species, Parrots need plenty of toys to keep them entertained and provide the essential mental stimulation needed to prevent boredom which can lead to unwanted behavioural problems.

There are lots of brands to choose from, the most popular toy ranges include Creative Foraging, Nature's Instinct, Zoo-Max, Paradise and Super Bird Creations.

Creative Foraging Toys
From beginner level, up to more complex puzzles, designed to really test a Parrot's grey matter. These safe, easy to clean toys are made from tough materials to withstand even the most destructive of playtime.

Finding and retrieving food in toys offers Parrots a more natural way to feed, helping to prevent birdie boredom. Popular Creative Foraging Toys we suggest stocking include…

Buffet Party Ball (Beginner)
Suitable for most Parrot species, it provides endless opportunities for mental stimulation. Simply encourage your customer to fill it with all their bird's favourite goodies, then the bird can use it as a musical toy, foot toy, foraging toy or something else.

Foraging Wheel (Intermediate)
There's five compartments to fill with rewards. Parrots have to spin the front to move the hole to the desire compartment where they can then retrieve their prize.

Tug N Slide (Advanced) Food is placed in the top, the bird must master the multiple puzzles to manoeuvre their reward to the bottom.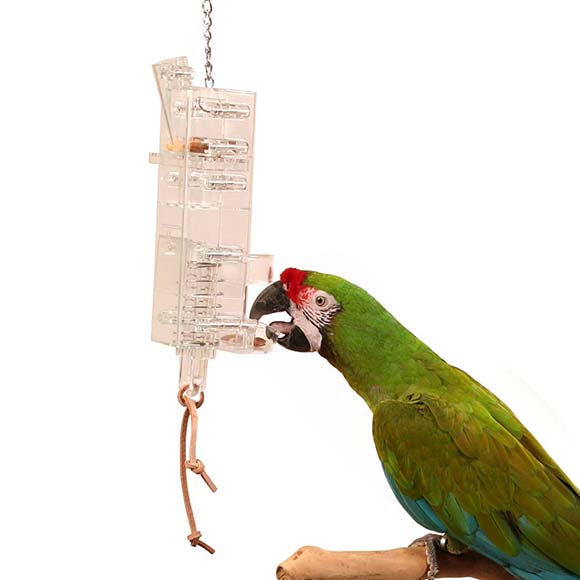 Nature's Instinct
These tough toys have been popular since their introduction in 1992 and are a great way of giving birds the stimulation they need. Here are the most commonly bought toys from this range…

Barrel of Fun (Beginner)
Fill the chamber, then push and twist to lock. Bird's has to work out how to open it again to retrieve their prize. Fun for small to medium sized Parrots.

Snack Rack (Beginner to Intermediate)
Beginner level – place rewards in the top section and hide with the two moveable rings. The Parrot has to work out how to twist the rings until they fall down to reveal their rewards.
Intermediate level – place the rewards in the bottom section and hide with the rings. The Parrots has to move the rings up to reveal their reward. Suitable for medium sized Parrots.

Turn & Learn Logs (Advanced)
The four bolts screw together, and each once has a well inside to place rewards in. How tight you fasten them together dictates the degree of difficulty.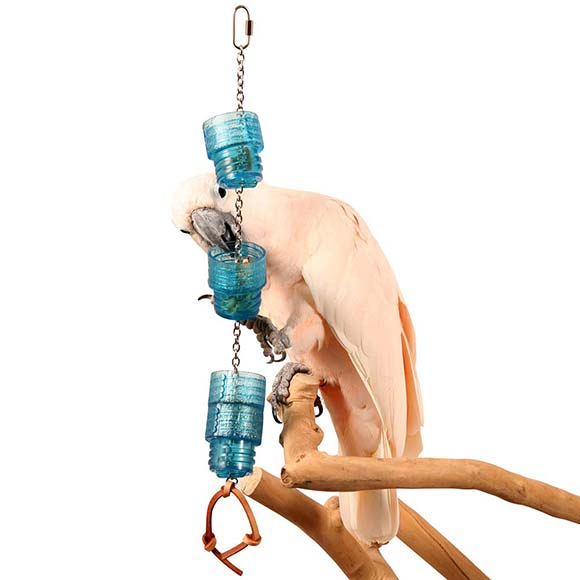 Zoo-Max
Zoo-Max produce a range of toys from their base in Canada. They design and make everything themselves and have been doing so since 1992. The most popular of these are…

The Teacher Toy
All Parrots can learn to count and recognise colours with this toy. They can simply stack the easy to grip rings and they'll pick up this important information very quickly.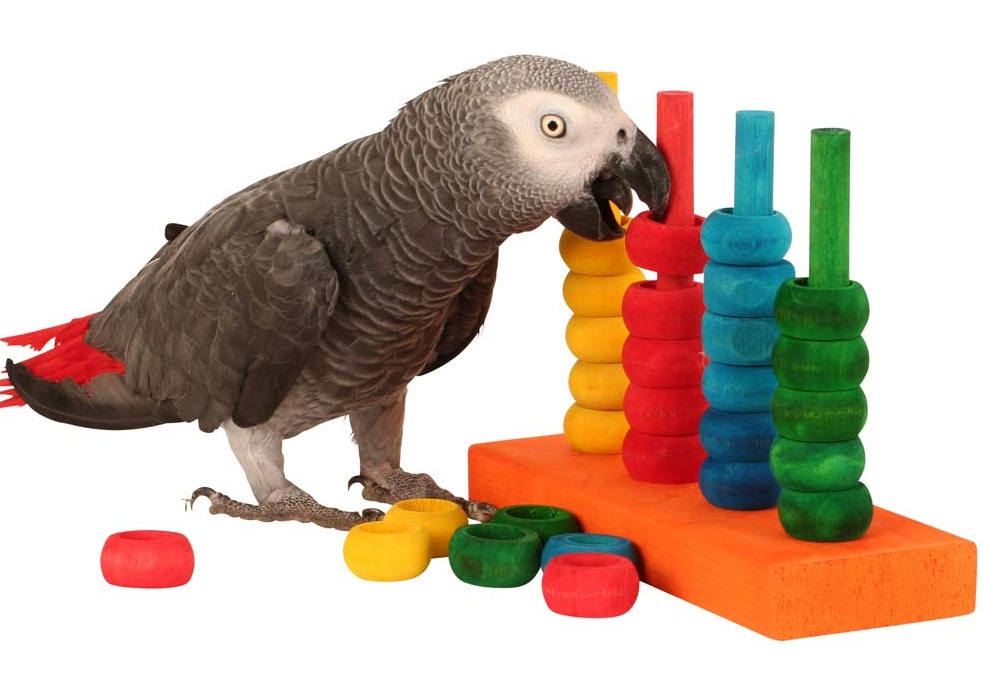 Stacks of Shredding
Available in two sizes, medium and large, it's a long stack of thick corrugated cardboard and coloured wood for chewing and shredding. Medium is for birds such as Caiques, Conures and Meyer's and Senegals and Large for birds like African Greys, Eclectus Parrots and Macaws.

Cocotte
A stack of coloured wood that can change shape to make chewing on it even more fun.
Three sizes are available…
Small - For Cockatiels, Meyer's and Senegals and Quakers.
Medium - For African Greys, Conures and Eclectus Parrots.
Large - For Cockatoos and Macaws.

Paradise
Create an extensive range of toy types and accessories using bird safe materials. Well-known and respected.

Jiggle Bug
Multi-textured toy with wood to chew, rope to preen, knots to undo and beads to remove. Plus, as shiny bell to chime along. Suitable for most medium sized Parrots.

Toy Making Parts
A range of wood and plastic shape, links, ropes, chains and bells – everything your customers need to repair or personalise existing toys or to build a brand new one.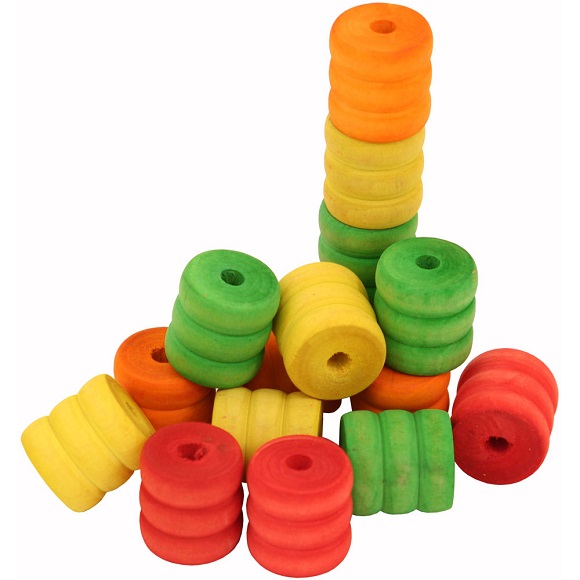 Perch and Swing Fluffy Cotton Ring
Super soft knotted cotton rope for unravelling and preening on. Also doubles as a fun swing and place to snuggle up. Two sizes available…
Large – for medium sized Parrots like African Greys.
Giant – for large Parrots like Macaws.

Super Bird Creations
One of the leading bird toy manufacturers in the USA, creating safe and stimulating toys for birds of all sizes. The best sellers in this range are…

The UFO Foot Toy
Brightly colourful with parts Parrots can enjoy removing. Promotes birds to exercise their feet. Suitable for medium to large Parrots such as African Greys, Macaws and Quakers.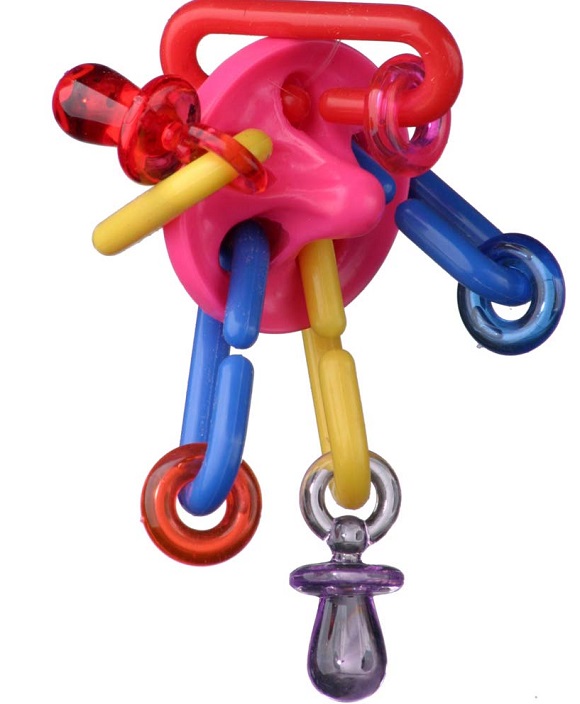 Activity Wall
An assortment of materials to satisfy a bird's natural desire to chew and preen. Plus, parts to remove and unravel. Available in two sizes…
A fun to chew toy with foraging opportunities. Rewards can be placed inside the sneaker part, use the laces to dictate the degree of difficulty.

For more help on getting started take a look at these helpful articles on
Parrot Food
Parrot Accessories

You can also read more information on foraging toys here.

If you have any questions or would like any more advice please contact our customer service team on 01706 507803 or email us at sales@northernpettrade.com